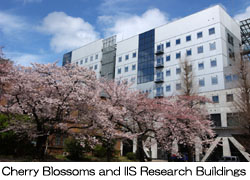 Venue
The conference takes place at the Convention Hall (General Research Laboratory Bldg.) at the Komaba II (Research) Campus of the University of Tokyo.
Address
4-6-1 KOMABA MEGURO-KU,
TOKYO 153-8505, JAPAN
35.66109N 139.67760E (OSM map)
Travel together
Do you want to know what accommodation our delegates are staying in? Staying in the same hotel together with other mappers makes it easier to meet and explore Tokyo. We contacted hotels in Shibuya area, asked for availability and were able to make preliminary reservations from Sept. 5th to 9th. We also tried to negotiate discounts. Take a look at the accommodation page on the OSM wiki for more information about where to stay during the conference.
If you want more travel information, look at the transport page or the travel tips page.
More information
Have a look at the SotM2012 Wiki for more information. The Wiki pages will be updated regularly in the following weeks.